Winners
Speech topic: Leadership, Service, and the Four Way test. The contestant must apply the Rotary Four-Way Test to the concepts of leadership, service to others and life experience.
The following students exemplified all qualifications of the competition guidelines:
Delivery must be presented from memory without the aid of podium, notes, displays or props.
No less than 4 minutes, no more than 6 minutes.
Speech must be the work of the contestant alone, no more than 75 words may be quoted.
Winners of the 2016 Contest
Pictured L to R: DG Beth Stubbs, Carolina Hatfield, 3rd Place Winner (South Pittsburg), Danielle Quisenberry, 2nd Place Winner, (Seymour Breakfast), and Julia Goncalves, 1st Place Winner, (Cleveland)
Winners of Recent Contests:
1st Place - Wendy Armenta, Cleveland -$1000 Scholarship
2nd Place - Brooke Chaffin, Bradley Sunrise -$500 Scholarship
3rd Place - Mickayla Stogsdill, Farragut -$250 Scholarship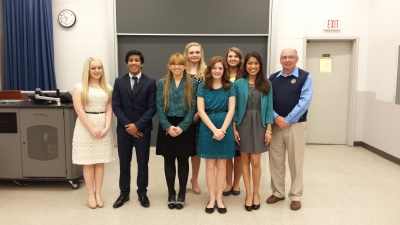 Front Row: L to R: Kayla Adams (Jamestown), Ovi Kabir (Oak Ridge Sunset), Mikayla Stogsdill, 3rd Place Winner (Farragut), Brooke Chaffin, 2nd Place Winner (Bradley Sunrise), Wendy Armenta, 1st Place Winner (Cleveland), and DG Jerry Wear. Back Row: Emily Hooper (South Pittsburg), Condra Lee Carter (Dayton)