District Governor
Al Clark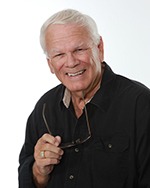 Alan Clark of the Rotary Club of Franklin County A.M. is the District Governor 2022-2023.
He was born and raised in Columbia, TN, the Dimple of the Universe, the son of a lifetime Columbia newspaper man and veteran of World War II, and a World War II war bride from Bristol, England, who met there while his Dad was awaiting deployment into France on D-Day.
Alan joined the Rotary Club of Winchester in 1980. He is a Past President of the Winchester Rotary Club and Past President and Executive Secretary of the Franklin County A.M. Rotary Club. He was named the Rotarian of the Year in the Winchester Club for 2007-2008, and was the Assistant District Governor for Area 12 (Franklin County, Winchester, Monteagle-Sewanee, and Grundy County.) He served five years on the District's Rotary Youth Exchange committee and in roles as Youth Exchange Coordinator and Advisor. He is a Paul Harris Fellow, member of Paul Harris Society, and Rotary Benefactor.
He served 28 years in the military and retired in 2000, having been awarded the Legion of Merit, Bronze Star, and Honorable Order of Saint Barbara. He is a veteran of the Persian Gulf War and retired as a Colonel from the US Army Training and Doctrine Command.
Following military retirement, he began a career as an Education Technology and Information Technology professional, serving in several Chief Information Technology Officer roles at The Bright School in Chattanooga, Georgia Perimeter College Dunwoody Campus Atlanta, Tusculum College in the Knoxville Branch, and finally as the CTO for Franklin County Schools. He retired again after 19 years in education and technology in 2016.
Clark was the editorial columnist for the Winchester (TN) Herald-Chronicle and editorial page contributor to the Columbia (TN) Daily Herald. In 2019 he received a Tennessee Press Association Award for Best Editorials. His published works include two novels, Temporary Friends and Setting Fire to This Life, a compilation, From Calypso Joe to the Toad: My Favorite Drummers, and a book of poetry, If You Knew What I Was Thinking. A book based on his leadership theories was published in 2018, called The Leadership Initiative: Meeting the Challenges of Change, and is used in leadership seminars and workshops. A compilation of his editorials was published by Lakeway Publishers, Inc., in 2019, entitled You Oughtta Know, Vol One 2017-2018.
A lifelong sports enthusiast, Alan has been a sports broadcaster following his playing days. He was staff reporter for the Univ of Tennessee Vol Network for 8 years and the Voice of Covenant College basketball in Lookout Mountain, GA, for 6 years. His play-by-play voice has also been heard since 2006 for the high school teams in Winchester, Huntland, Tullahoma, and Moore County (Lynchburg). He now serves as General Manager and Sports Director for Wiseman Media and WZYX Radio in Cowan, TN, and has been broadcasting high school and college sports since 2006. He is the sole proprietor of both Al Clark Voice and Al Clark Broadcasting, producing live and recorded video of sports-related events and recording voiceovers for many clients.
Alan pursued a career in music as a drummer from his high school days until the present, playing with various groups throughout the Nashville area and appearing onstage with such artists as B.J. Thomas, Ronnie Dove, Bryan Hyland, and Lee Greenwood. He joined the Jerry Anderson Ensemble in Franklin County in 2008 and has appeared with the South Jackson Street Band in Tullahoma.
A prolific writer and enthusiastic reader, he holds a B.S. and M.Ed. from MTSU and a Doctorate in Education from the University of Tennessee Knoxville, and is a graduate of the U.S. Army War College. He is an active member in the Franklin County Chamber of Commerce, the Highland Rim Scottish Society (Clan Fraser), American Legion Post 44 in Winchester, and the Murfreesboro Chapter of the Military Officers Association of America. He is also a member of a group of local philosophers who meet regularly at Land and Lake Market to solve world problems and drink coffee.
Clark lives in Estill Springs, Tennessee, with beautiful wife Shirley Maxwell Clark. He still plays racquetball, tennis, golf, enjoys travel, music, kayaking, and boating on Tims Ford Lake, and plays drums and bass guitar in his spare time.
The Governor's Team

District Governor-elect

Susie Cantrell

Susie is a charter member of the Rotary Club of Cookeville Sunset, was the club's president in 2016-2017. She was selected as a District's Rotarian of the Year in 2020.

Susie was raised in East Tennessee. She came to Cookeville at the age of 18. Attending her hometown university, Tennessee Tech University and the American College of Sports Medicine, she has attained many certifications and licenses to further her career as a local business owner.

Connoisseur of music, Susie has played the piano since the age of 8 and has a tremendous love for the arts, theater, and Broadway. Five Sundays of the year, you can find her at the Bryan Symphony Orchestra, where she is a season ticket holder. As an avid traveler, she hopes to one day trace the footprints of Beethoven in Vienna. She also enjoys event planning and spending quality time with her husband and son.

In addition to Rotary, she served two terms as Board Chair for Cityscape, a downtown revitalization organization, and is the Board Chair for TTU Friends of the Library. To quote Susie Cantrell, Rotary holds such a special place in my heart, and I cant help sharing it with others!

District Governor-nominee

Rob Dansereau

Rob first joined the Rotary Club of Knoxville Volunteer in 2004, took a break from Rotary in 2011, and rejoined the Knoxville club in 2016. Rob served as Club President for two consecutive terms from 2017-2019 and has served on several club level committees.

Rob is a graduate of Rotary Leadership Institute I, II and III, as well as the District Leadership Academy. He has served as Area 4 Assistant Governor since 2019 and is slated to be Assistant Governor Coordinator for 2022-2023. Rob is chairing the 2022-2023 District Conference and will begin facilitating RLI in the winter of 2022. Additional Rotary engagement includes Mid-South PETS Facilitator and District 6780 preliminary grants reviewer.

A multiple graduate of the University of Tennessee at Knoxville, Rob has studied Business, Comparative Public Policy, Medieval and Renaissance History, and Chemistry. Rob owned a chain of retail stores from 1995-2015 and became a Residential Realtor with Coldwell Banker Wallace in 2015. Rob is a community builder and believes that helping individuals and their families find their perfect home furthers the success of the overall community.

Rob is passionate about his family and has been married to his wife Christa for 21 years.

Christa has a passion for early childhood education and has served as a kindergarten and Pre-K teacher. Christa and Rob have three children (Kate 20, Henry 18, and Lilly 16). Kate is a Blount Scholar in Public Health at the University of Alabama as well as an alum of Rotary Youth Exchange (India). Henry is a senior at West High School in Knoxville and will graduate as valedictorian in 2022. Lilly is a junior at West High School and an International Baccalaureate candidate for 2023.

When Rob finds spare time, he loves to explore his community as well as travel to new places. Rob is a lifelong learner and enjoys studying several different topics including science, history, art, music, and current events. Food and mixology are other areas of interest to Rob, and he feels blessed to live in the budding Knoxville food scene.